TIMELESS IMMORTAL ART
TIMELESS IMMORTAL ART - SICILY - MADE IN WORLD
dal 01/03/2021 al 03/01/2022
Merí Cittá - Huangshan City Piazza Municipio Mer#237; (ME)
---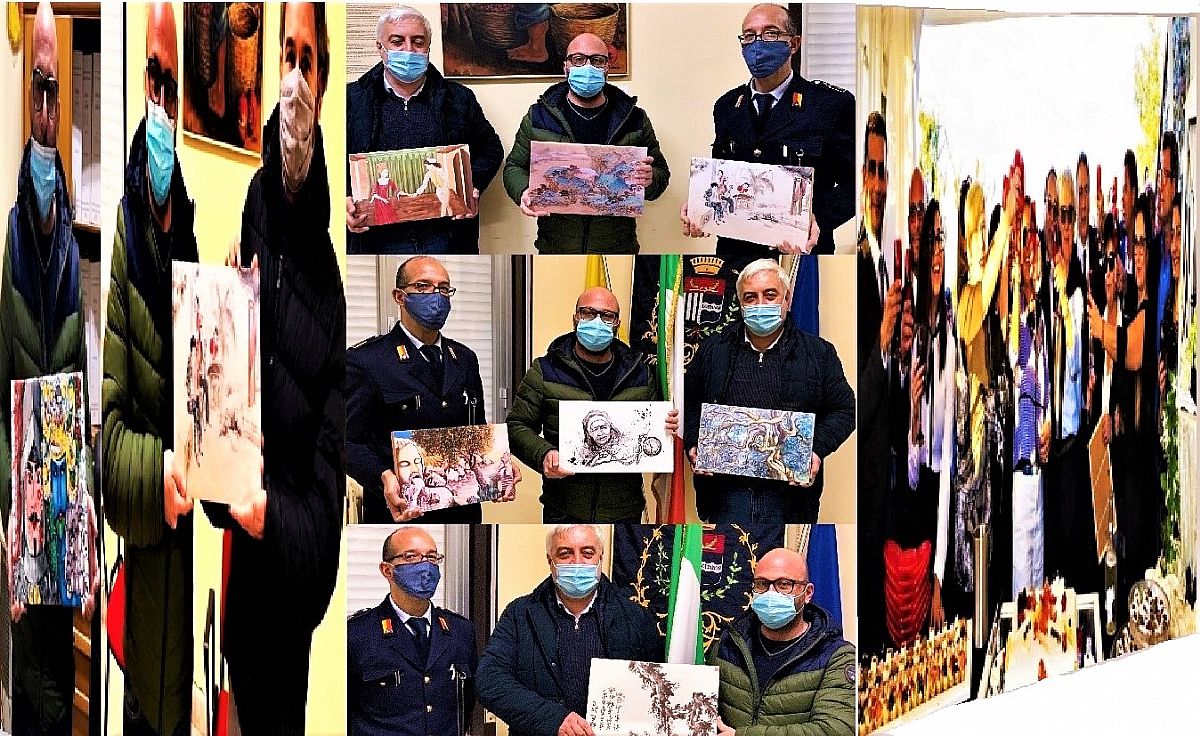 "Merì - Timeless Eternal Art", the revolution of the small town that becomes an eternal open-air museum, giving immortality to 60 artists from all the nations of the world.
The Mayor of the City of Merì Filippo Bonansinga, the Councilor Carmelo Arcoraci 'believed in this project', the Deputy Mayor Antonino Siracusa and the entire municipal administration in collaboration with Master Lorenzo Chinnici and his son Francesco Chinnici to act as trait union with artists from all over the world they are the architects of an innovative project in the small Sicilian town.
The main square and all the streets ready to be transformed into a permanent museum with tiles painted by international artists.
Merì gives immortality to artists who with their works will be testimonials of the streets of the town forever. An unprecedented combination of toponymy and art; Fourteen overall positions with terracotta tiles made by the artists are scheduled and, around the square, twelve positions of pedestrian arches where panels with photos of the paintings will be installed, like those already placed for the author's shelters.
"An unprecedented project, none of this exists, anywhere in the world, we are the first to implement this artistic concept in Sicily, with the patronage of the Sicilian Region - Department of Cultural Heritage and Sicilian Identity." With the donation of the artists' works, Merì will decorate its streets and squares with artistic works, creating a cultural path, an eternal, timeless exhibition that will ensure that the artist's name and work will be preserved, preserved and exhibited forever in the streets and squares of the town epicenter of micro monuments dedicated to artists from all over the world, the artist's name will always be remembered and visible to all the people who visit this country.
"An open-air art gallery but also a real urban regeneration through art. Merì and Sicily are candidates to become a model of cultural renaissance thanks to a redevelopment project that can count on hundreds of international artists. "
The first steps were started with the construction of the artistic bus shelters, dedicated to Master Lorenzo Chinnici. Now the project involves the installation of works made on terracotta tiles. "
An incessant work carried out by the councilor Carmelo Arcoraci, passion and sacrifice, who since 2017 has never stopped believing in this dream to make it come true
All this becomes reality thanks to the intermediation of the Painter Lorenzo Chinnici, an artist appreciated all over the world, who has spent himself in favoring contacts with international artists. "Chinnici is almost 79 years old, has about 300 exhibitions in many cities around the world. son Francesco Chinnici: '' it is pure energy, over 70 years of history, of international meetings ... we have focused everything on this small town, where my father was born, our experiences, paths ...
Similar projects to that of Merí will happen in China, with the same group of artists. Sino-Italy Ningbo Ecological Park, together with Sino-Italy Tus-Investment (Zhejiang) Co. Ltd., Huangshan City, TsungDao Lee Center of Sciences and Arts of the University of Chinese Academy of Sciences are among the first group of organizations that have strong interests to host this project. Thanks to the intermediation of Emma XingYi Wang, the president of G&Y Cultural Exchange Association from Shanghai and Florence.
Here is the international cast of the artists: Lorenzo Chinnici (Italy), Zheng XiaoTong (China), Craig Warwick (England), Farida Saba (Saudi Arabia), Patrick Smith (United States of America), Alisa Byteva (Russia), Dorina Nicoleta Crisu (Romania), Christine Bleny (France), Ildo Domingos (Brazil), Jacqueline Scheffer (South Africa), Agnieszka Wioletta Meler (Poland), Giuseppe Gorga (Italy), Ingrid GG Pegge (Holland), Bojan Jevtic (Serbia), Isabella Young (New Zealand), Giovanni Gargano (Italy), Uliana Storozhylova (Ukraine), Lu Mei (China), Alberto Urbano Moreno Monturque (Spain), Adriana Antidin (Argentina), Francesca Maio (Italy), Luna Smith (Scotland), Bruce Chidovori (Zimbabwe), Neven Zoricic (Croatia), Salvatore Cusimano (Italy), Mirit Ben-Nun (Israel), Pawel Mendrek (Austria), Nicole Musser (Canada), Nicoló Garrasi (Italy), Lilivet Pena Echemendía (Cuba), Osama Imam El-Laithy (Egypt), Agatino Furnari (Italy), Brian Jenninngs (Ireland), Giuseppe Messina (Italy), Aidas Rytis Vasiliauskas (Lithuania), David Kent (England), Dimitri Salonia (Italy), A.Tinne Vereeck (Belgium), Linda Schipani (Italy), Rui Manuel de Sousa Lourenco (Portugal), Shadi Abou Sada (Syria), Anne Gry Andersen (Denmark ), Du Shusheng (China), Lucy Lago (Russia), Pino Morena (Italy), Helen Mortimer (Australia), Salvatore Imbesi (Italy), Tara Vahab (Canada), Vincenzo Campo (Italy), Olena Rudnieva (Ukraine), Francesca Licari (Italy), Adil Es-Safi (Morocco), Gianmaria Lafranconi (Italy), Zhang Jigang (China), Michela Velardita (Italy), Joe Cooper (Galles), Mel Alexenberg (Israel), Roberto Di Costanzo (Italy) and our mascot the very young Kenta Leon Hayashi (Japan).
The singing of an Ave Maria by Soprano Ekaterina Adamova (Russia) to celebrate this artistic contamination.
All without distinction, have worked hard to make this town unique. ''
---